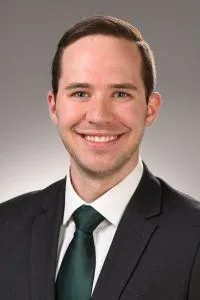 Dr. Andrew Schuiteman graduated from the University of Iowa College of Dentistry, where he engaged in treating patients across all dental specialties. He is passionate about continuing education and takes every opportunity to seek out new ways of bringing quality care to his patients. He is excited to put his skills and knowledge at the disposal of the Sioux Falls area and is excited to journey with his patients towards healthy, functional and confident smiles.
HOMETOWN AND EDUCATION
Dr. Andrew is originally from Orange City, Iowa, and many of his family members still live in the NW Iowa region.
Dr. Andrew is a graduate of the University of South Dakota and received his Doctor of Dental Surgery degree from the University of Iowa College of Dentistry, where he received the collegiate merit award from the Academy of Oral Medicine.
While attending the university, he earned his certification in IV conscious sedation at the Miami Valley Hospital from Dr. Daniel Becker and Dr. Steve Shufflebarger of Dayton, Ohio, one of the more rigorous and highly regarded trainings in the country.
He is currently a member of:
The American Dental Association®
The South Dakota Dental Association
The American Academy of Oral Medicine
The Academy of General Dentistry
The American Academy of Dental Sleep Medicine
The American Academy of Laser Dentistry
The American Academy of Implant Dentistry
HOW DID YOU GET INTO DENTISTRY?
From a young age, Dr. Andrew knew he wanted to be involved in health care. He was drawn towards dentistry because it was a demanding technical field that also requires creativity and artistry. He shadowed many dental offices around his hometown and was struck by the impact dental health had on patients' lives. Having family members of his own who struggled with tooth related issues, Dr. Andrew became committed to learning how to provide high-quality dental services to create positive experiences for his patients and be there for them like his dentist was for his family.
FAMILY
Dr. Schuiteman met his wife, Kaela, while they were both attending the University of South Dakota. They were both involved in music ensembles, science classes and the honors program together. They got married in Sioux Falls in 2019.
During his third year in dental school, Dr. Andrew and Kaela had their beautiful daughter, Vivian.
They are excited to be able to raise their family here in Sioux Falls, near many of their immediate and extended family members.
HOBBIES
When Dr. Andrew is not learning about new ways to best serve his patients, he primarily spends time with his wife and daughter. They love to play outside, go to the zoo and just spend quality time together.
He and his wife are Chiefs fans, so you know where you can find them during game days. They were fortunate enough to attend the AFC Championship in 2020 to watch the Superbowl winning team in Kansas City.
Dr. Andrew has always loved playing board games as a child and now as an adult. Game nights are a frequent event in the Schuiteman household.
Dr. Andrew played the saxophone for the University of South Dakota and still enjoys playing from time to time. He also sings with a local professional choir ensemble, Transept.
He enjoys playing any version of billiards whenever he sees a table!